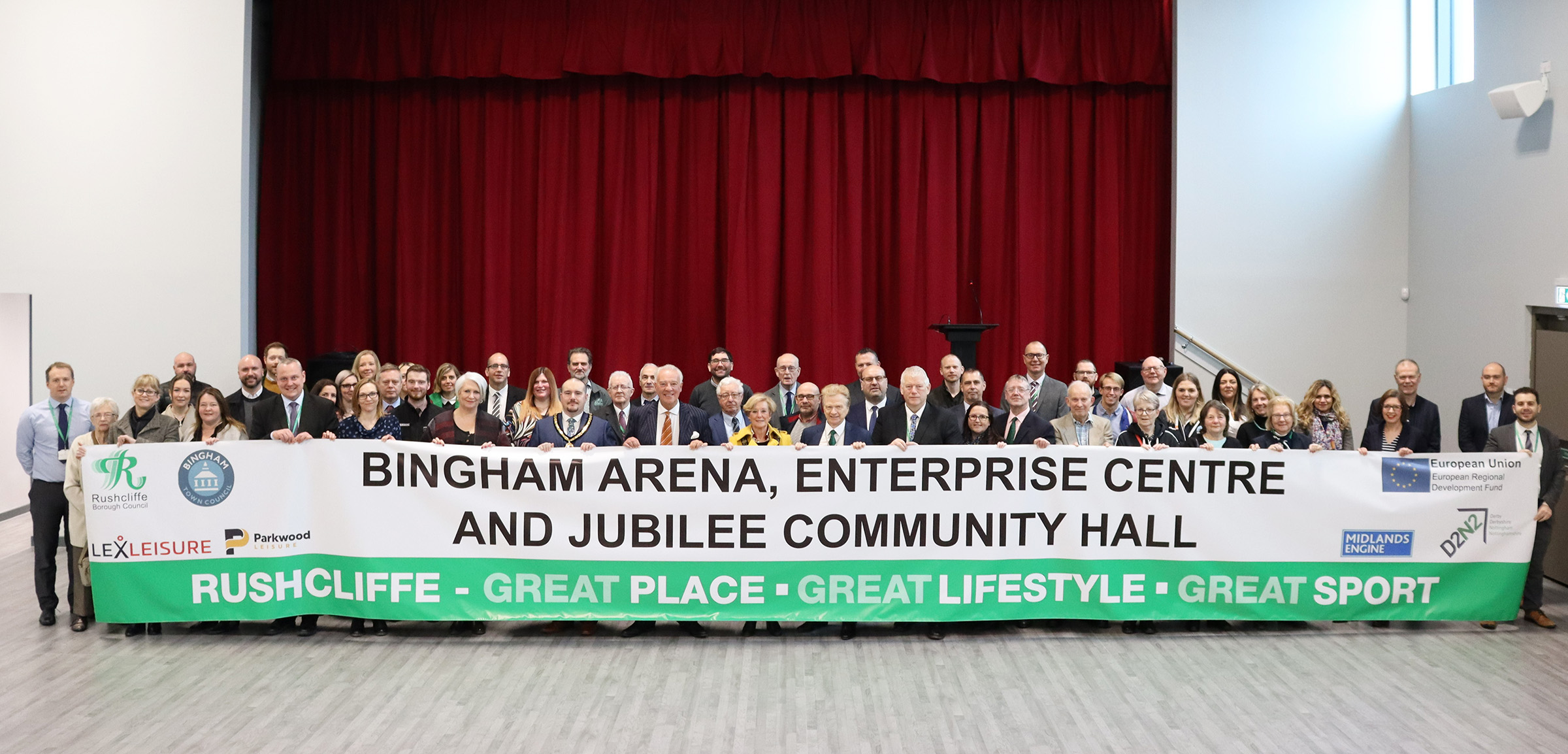 Partners and dignitaries have met in celebration of the new Bingham Arena Leisure Centre, Jubilee Community Hall and Enterprise Centre following its official opening last week.
Leader of Rushcliffe Borough Council Cllr Simon Robinson, Mayor of Rushcliffe Cllr Tina Combellack and Mayor of Bingham Cllr Gareth Williams welcomed partners and stakeholders at an opening event on Tuesday February 28 at the new £20m site.
Attendees included partners from Bingham Town Council, D2N2 Local Enterprise Partnership, European Regional Development Fund and Rushcliffe Borough Council Councillors.
Delegates were given a tour of the new facilities which include a new 25 metre six lane swimming pool, teaching pool, fitness centre, spin and exercise studios, café and community hall.
Local swimming galas and competitions can now be welcomed in more comfortable surroundings thanks to a 330-seater swimming pool spectating area and will provide even more opportunities for swim instructors qualified to Swim England standard.
The site on Chapel Lane in the town is managed by Lex Leisure and residents can sign up for membership at https://www.leisurecentre.com/bingham-arena .
Presentations by Cllr Robinson and partners also took place in the new Bingham Jubilee Community Hall to further showcase the significance of the major development in the town.
He said: "This is a wonderful new facility for the people of Bingham and Rushcliffe at a time investment in our growing communities is so important.
"This event was an opportunity to reflect on the major project and celebrate the success of the new leisure centre facility which residents and families in Bingham and across the Borough are now enjoying following its opening last week.
"It was fitting to host our opening event in Bingham Jubilee Community Hall and delegates were impressed with the venue which has capacity for up to 300 people, courtesy of part-funding from D2N2 Local Enterprise Partnership and support from Bingham Town Council.
"This site has something for everybody from swimming to gym to an 80-station fitness studio with two group exercise studios and an indoor cycling studio. There is a state-of-the-art Boditrax body composition and activity tracking platform too which members can use for free.
"The six lane swimming pool looks terrific and everyone was impressed by the facility and spectator seating area. It is great for swimming galas and competitions and will attract a lot of talented athletes to practice and compete here.
"We've also invested in a carbon clever and energy efficient site, setting an example for others to follow in investing in new infrastructure in the right way. It was built with green technologies and has 78% lower carbon emission rates than other leisure sites locally."
Mayor of Bingham Cllr Gareth Williams added: "Bingham Arena and Jubilee Community Hall is a fantastic facility and a wonderful community asset.
"It was a great pleasure and honour to be asked to unveil the plaque for the Jubilee Community Hall and I look forward to seeing the residents of Bingham enjoying and hosting many events in the hall.
"A huge thank and congratulations to all those involved in delivering this project"
To find out more about the new Bingham Arena Leisure Centre, visit https://www.leisurecentre.com/bingham-arena .
The former Bingham Leisure Centre at Toot Hill School has closed although facilities are still open for community use for outdoor sports including hockey, tennis and athletics and sports hall activities outside of school hours. These will also be managed by Lex Leisure.
Membership and bookings from the Toot Hill site have now transferred over to Bingham Arena.
The offices at the new Bingham Enterprise Centre are open for business from courtesy of funding from the European Regional Development Fund and Local Growth Funding from D2N2 Local Enterprise Partnership.
The 12 self-contained high spec fibre connected office suites over two floors range in size from 47 square metres (506 square feet) to 108 square metres (1,163 square feet) and have on-site parking.
To find out more on lets on pro-business flexible lease terms please e-mail or call 0115 914 8344.