We are now accepting applications for Grant Aid
If you are a member of a local organisation or community group with a project that may need some financial support, then the Town Council's Grant Aid scheme may be able to assist. Each year the Town Council has a Grant Aid budget to donate to local community groups or organisations. All applications are considered by the Town Council's Policy and Resources Committee and successful applications are then verified by the Town Council at its next full meeting. If your group needs financial support for a project, complete the application form and return it to or post to Bingham Town Council, The Old Court House, Church Street, Bingham, NG13 8AL.
The Town Council are unable to consider applications from individuals and the group must benefit the residents of Bingham in some way to be eligible.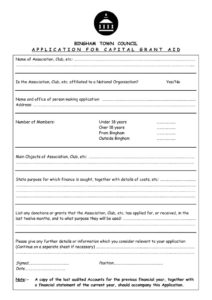 Past Recipients
2018/2019
| Date | Recipient | Amount |
| --- | --- | --- |
| April 2018 | BINGHAM HERITAGE TRAILS | £500.00 |
| June 2018 | CALVERTON & BINGHAM SWIMMING CLUB | £500.00 |
| July 2018 | BOMBER GATEWAY TRUST | £100.00 |
| September 2018 | THE METHODIST CHURCH | £200.00 |
| December 2018 | FRIENDS OF BINGHAM LINEAR PARK | £117.60 |
| January 2019 | FRIENDS OF BINGHAM LINEAR PARK | £200.00 |
| February 2019 | FRIENDS OF BINGHAM LINEAR PARK | £300.00 |
| March 2019 | RADCLIFFE ADVICE GROUP | £500.00 |
2017/2018
| Date | Recipient | Amount |
| --- | --- | --- |
| June 2017 | Vale of Belvoir Cycling Club | £250 |
| August 2017 | U3A (Croquet Club) | £200 |
| September 2017 | Bingham Cricket Club | £500 |
| February 2018 | Bingham Tennis Club | £2000 |
| March 2018 | Friends of Linear Park | £117.60 |
| March 2018 | BHTA (for the co-ordination of WW1 Commemorations) | £1000 |
| March 2018 | Toot Hill School (for charitable works at TFest) | £210 |
| March 2018 | Royal British Legion | £200 |
2016/2017
| Date | Recipient | Amount |
| --- | --- | --- |
| July 2016 | Butt Field Sports Club | £1600 |
| September 2016 | Butt Field Sports Club | £320 |
| January 2017 | Carnarvon SPTC | £200 |
| February 2017 | Friends of Linear Park | £105 |
2015/2016
| Date | Recipient | Amount |
| --- | --- | --- |
| May 2015 | Thera Trust | £230 |
| May 2015 | Notts Birdwatchers | £80 |
| May 2015 | BTYFC | £1500 |
| July 2015 | Community Heartbeat | £1000 |
| July 2015 | Robert Miles Infant School | £200 |
| July 2015 | Bingham Cricket Club | £400 |
| July 2015 | Positive Futures | £250 |
| October 2015 | Royal British Legion | £444.40 |
| November 2015 | Allotments Association | £450 |
| November 2015 | Friends of Linear Park | £150 |
| January 2016 | Bingham RUFC | £500 |
| January 2016 | 33rdNottingham Boys Brigade | £347.75 |
| January 2016 | Friends of Linear Park | £196.26 |
| March 2016 | PCC of All Saints | £500 |