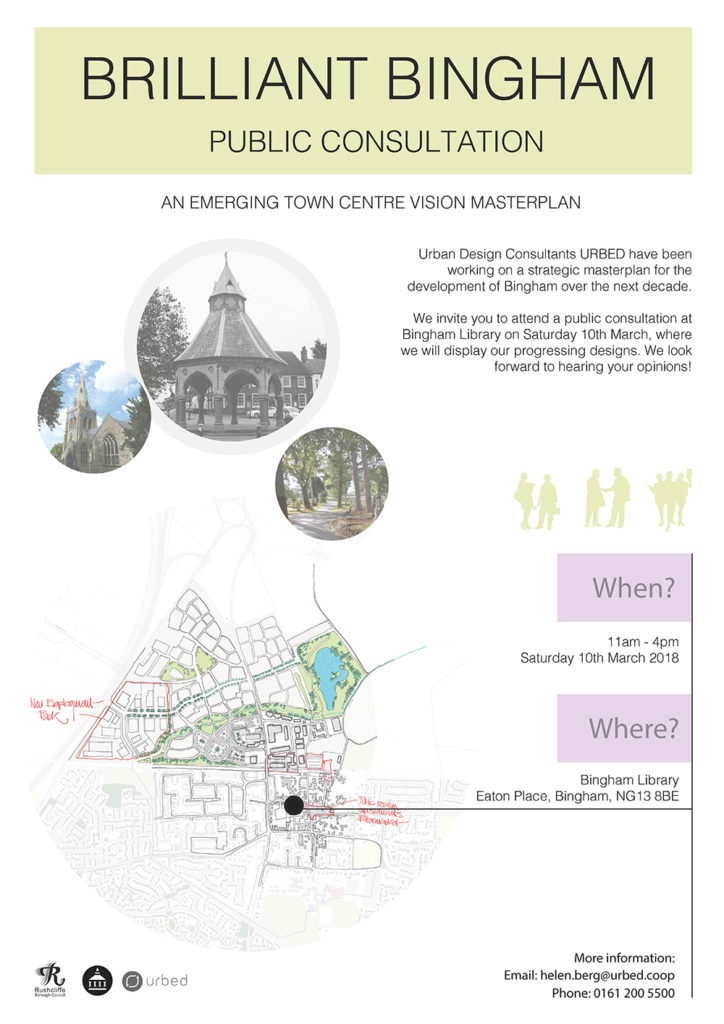 Urban Design Consultants URBED Ltd have been commissioned by Rushcliffe Borough Council, in partnership with Bingham Town Council and the Bingham Growth Board, to develop a strategic masterplan to help guide the town's growth over the next 10 years. They look forward to discussing the emerging Town Centre Vision Masterplan and proposed strategy with members of the Bingham community and local residents.
They will be at Bingham Library on Saturday the 10th of March from 11am until 4pm. The emerging work will be displayed on visually engaging boards and they will collect written feedback using small postcards. The feedback will inform the design progress. Posters like the image below, that include full details of the consultation on the 10th, are being printed and distributed across Bingham.
After the public event, the presentation boards will be shared online on the URBED website http://urbed.coop/projects/bingham-town-centre-vision-masterplan# for a further week (until the 18th of March) to offer the possibility to send further feedback. The boards will also be displayed until the 18th of March at the Bingham Town Council offices, for people who wish to see the boards in person. It will be still possible to leave feedback on postcards or to email URBED at .